On-line Credit Checking

When Glass Office is linked to some accounting systems, it can interrogate the accounts system and check if the customer is already over their credit limit , whilst keying in an order, and then automatically put the job on hold until the situation is rectified.
The accounting systems we currently link to are: Sage Line 50, Sage Line 100/Sage MMS and Pegasus Opera/Pegasus Opera II.
Please see below for the way the operator is prompted when a customer is over their credit limit, please use the 'click to enlarge' button below for more detail.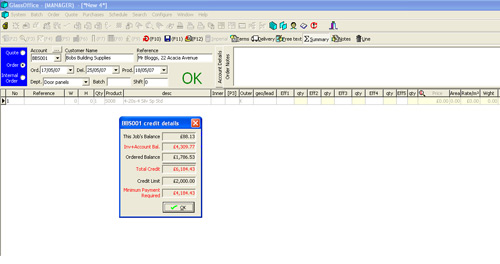 Click here to enlarge
© 2012 Clear Thinking Software